This mint margarita recipe is a tangy, sweet and refreshing drink to cool you down. It's perfect for gatherings and easy to make with minimal ingredients. It will surely be a hit with your guests! I made it many times for my family back in Pakistan on my last visit and each time they loved it.
Mint margrita is full of fresh flavor and so easy to make with a blender and a few ingredients at hand. I use home grown mint to make this mint margarita any time. If you try this recipe once, I am sure you'll love it.
Ingredients for mint margarita:
Can I make this mint margarita ahead of time?
You can prepare the mint mixture ahead of time. It stays fresh in refrigerator in a sealed jar up to 3 days. Just add 7up/Sprite just before serving and give it a good mix.
The mint mixture can also be stored in the freezer up to two months in ice cube tray to be enjoyed later. When you are ready to serve, add the frozen mint cubes in a glass, pour 7up/Sprite over them, stir everything well, garnish with lime slices and mint and your thirst quencher is ready. There is no need to add ice cubes if you are using frozen mint cubes.
Recipe Notes and Tips:
I used my blender for this recipe but you can also use hand mixer for blending.
Scale this recipe up to make a larger batch.
You can customize it by adding some chili or chaat masala to make a spicy margarita.
You can also replace 7up/sprite with sparkling water and use stevia or maple syrup as a sweetener.
Soaked basil or chia seeds can also be added for extra goodness.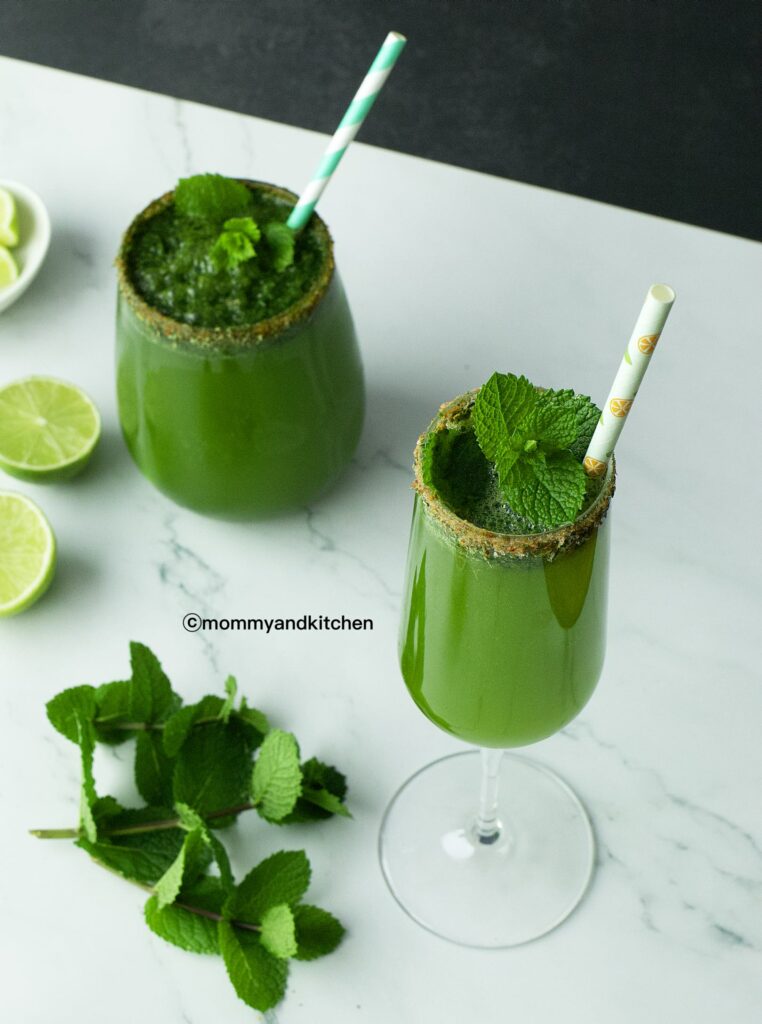 Equipment, tools or ingredients I used:
With Pictures and Links:
Video Instructions:
More refreshing recipes you might also enjoy!
Let's stay connected! Follow me on Instagram, Facebook and Pinterest for the latest updates. Subscribe to my YouTube channel for video recipes.